Error:
- ebay Main: Failure Failure | ErrorCode 21919489
ShortMessage:Description contains HTTP resources, which are not secure.
LongMessage:eBay will soon allow only HTTPS resources in listings. We strongly recommend that you revise your content now, to remove any HTTP resources and use HTTPS instead. For more information, please see https://www.ebay.com/secure-listings. Description
---
Explanation and solution:
Back in October 2017 eBay have implemented new browser security standards, which introduced quite a few new requirements and regulate the use of active content, CSS, HTML and external links, videos and secure images and any listings, which do not meet the requirements would be flagged for HTTP issues and the product description would be displayed after an additional See full item description button is clicked. eBay offer a tool to check the listing's security and there are also other external tools, which can be used either to inspect single listings or all active listings and you can take a look at the two eBay links below and you would be able to see further and more detailed information about the requirements.
- eBay Browser Security Standards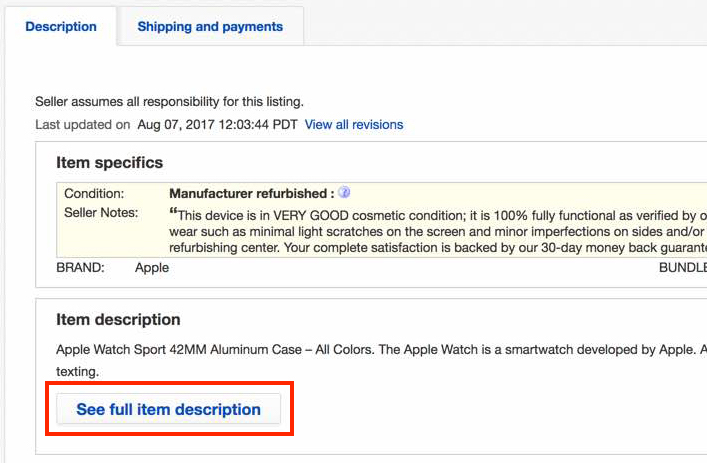 ---
On August 25th, 2017, we have made available an updated template that mirrors the original SureDone default template along with a modernized version of our eBay template and both ebay-product.htm and ebay-product-2017.htm files are located in Settings -> Templates -> default and please see the solutions below:
- eBay Requires all assets to be served via HTTPS (SSL)
- Updating your SureDone default template